CRM Information Challenges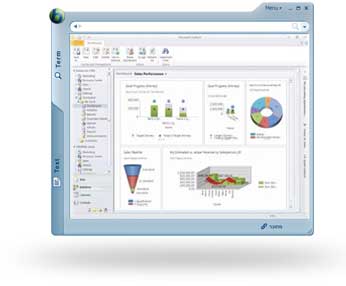 CRM is a business strategy that enables businesses to acquire new customers and maintain good relationships with existing ones. CRM processes help organizations improve customer service, enhance customer satisfaction, maximize customer loyalty and retention, and ultimately increase profitability. An array of technologies and applications serve to streamline operational processes and business functions, and facilitate productivity of customer-facing employees. But for CRM to be truly effective in an organization, mission-critical information must be readily available to all employees engaged in customer relationship activities.
Babylon-Enterprise Boost Your CRM Technology
Regardless of a company's particular product or service, employees engaged in customer-focused activities all share the constant pressures and competition to satisfy customers and render services that meet and even exceed expectations. For most companies the principle link between the business and the customers is a call center. It is therefore imperative that service representatives, whatever their specific task or function, respond to customers quickly and with reliable information. For example:
A sales representative must be able to supply accurate product specifications, shipping costs and delivery dates.
A service representative must be able to rectify an overcharge in the customer's bill or coordinate the arrival of an installation technician.
A technical support representative must be able to swiftly and smoothly resolve any problem the customer is experiencing.
The deployment of Babylon-Enterprise to facilitate and improve customer-focused business processes produces immediate returns on the investment. Businesses experience greater employee productivity and customer satisfaction, along with the resulting increase in customer-retention, sales and revenues.
Download Product Brochure in:


Download Product White Paper in:


Download CRM Solution White Paper in: